Purchase GTO+: Hold'em Analysis Software
---
A license will entitle you to register the software on one computer. A second license can be bought at the discounted price of $40.
You must be the owner of both computers to buy a second license. It is not permitted to sell/share/gift/etc licenses to other people.
Transfer $75 by one of the following methods:
---
For a license for a 2nd computer transfer $40
Click the button below to request your key.
It will be mailed to you within a few minutes.
To enter the key in GTO+:
1) Start GTO+
2) Go to "register" in its menu
3) Click on "Enter key"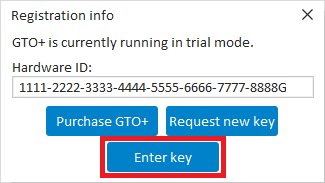 The registration fee is one-time. All future updates are included.
Taxes may still be added depending on your location.
When purchasing GTO+, a license for CREV (basically the previous version of this software) is included in the price. For more information on CREV, please go here.